The illustrations above capture such marine life as starfish, urchins, corals, and sea lilies. Discover even more public domain illustrations below!
Published in 1893 by William Saville-Kent, "The Great Barrier Reef of Australia: Its Products and Potentialities" may seem like a vintage science book at first glance, but it was more of a resource for the fishing industry.
I spent my morning coffee time treasure hunting at archive.org, one of my favorite public domain libraries. That's where I found these vintage illustrations of the Great Barrier Reef from the 19th-century.
19th-Century Corals
The Great Barrier Reef is the largest reef system in the world.

GreatBarrierReef.org
Anemones & Sea Cucumbers
The Great Barrier Reef is so large it can be seen from outer space!

GreatBarrierReef.org
Molluscs & Planaria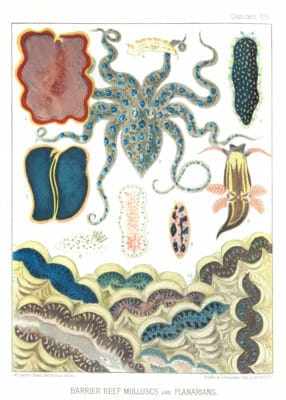 Discover More
Need more marine life, animals, and plant illustrations for your projects? Discover hundreds more full-color illustrations in the public domain below:
You can also browse the blog to find every post on the site.
Like what I do here? Your support on social media helps me curate and archive even more images from the past. Pin your favorites, follow on Instagram, and give FreeVintageillustrations.com a thumbs up on Facebook to show your support (you can even discover exclusive images you can't find on the site!)