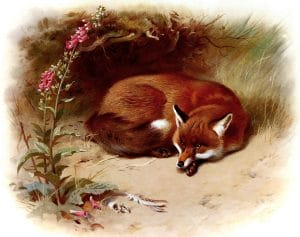 I think it's time to add more animals to this site, don't you think?
Good because I found this awesome antique book packed with British mammal illustrations from the early 20th century!
Published in 1920, British Mammals features more than 50 color plates and pen ink illustrations of Britain's most recognized mammals.
I picked out my personal favorites, fox, hedgehog, squirrel, and wildcat, then made a few quick edits using Pixlr.
These illustrations are perfect for magnets, postcards, coffee mugs, school flashcards, posters, and images for your blog.
Keep reading to learn more about the book's illustrator, Archibald Thorburn.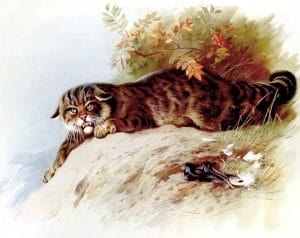 There were also a bunch of sea creatures I couldn't resist, so here are some Dolphins, whales and seals.
About The Artist: Archibald Thorburn
Archibald Thorburn was born in 1860 in Hascombe, Surrey in the UK.
He was of Scottish descent and frequently visited Scotland to paint its floral and fauna.
His favorite place in Scotland to paint was the Forest of Gaick.
Archibald's father, Robert Thorburn, was a miniature portrait artist and worked for Queen Victoria.
His work was frequently shown at the Royal Academy.
He regularly painted birds, and in 1899, he created the first official Christmas Card for the Royal Society for the Protection of Birds.
SEO/Copy Editor/Former visual merchandiser and retail buyer/Hobby Artist/History Nerd