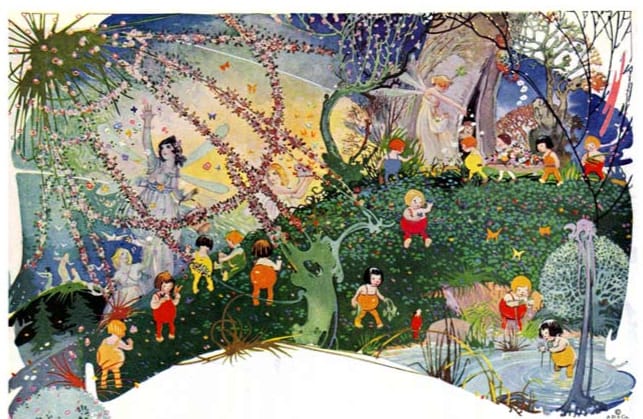 I've been dying to curate a new collection of vintage fairy illustrations. In my experience, they're not the easiest illustrations to come by in the public domain. At least ones that I'm into anyway.
I went on a deep treasure hunt this morning and found these awesome full-color fairy illustrations from vintage ads, children's books, and even sheet music. The illustration above is from a 1920s vintage ad for Djer-Kiss Toiletries, which was a collection of personal care items from French perfume company, Kerkoff.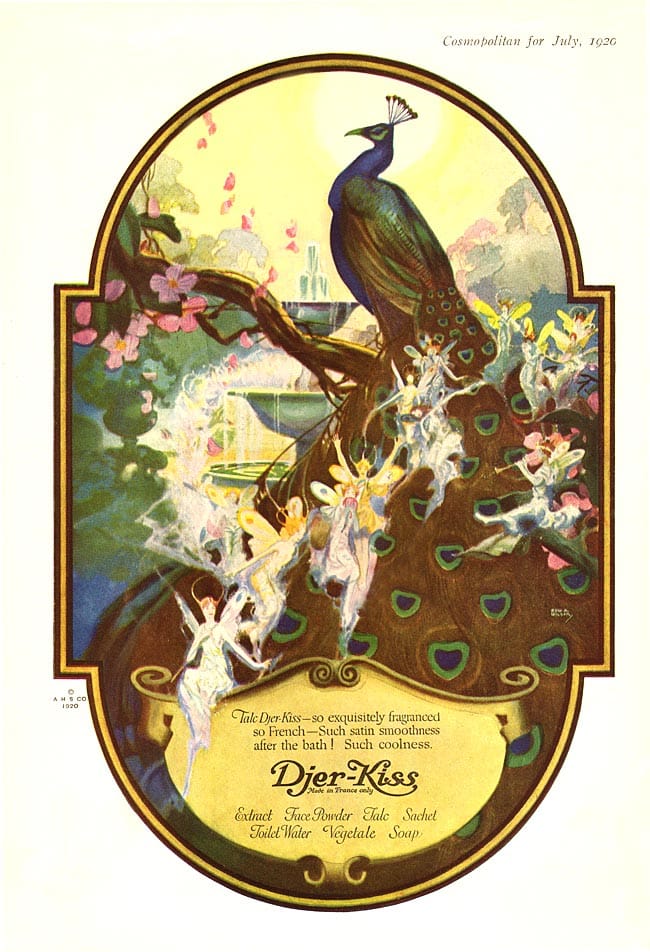 Not much is known about Kerkoff. While it operated in France, it primarily served American consumers as an imported good. Though now gone, Kerkoff may be best known now for the fanciful advertising it left behind, making them a unique source for free fairy illustrations in the public domain.
More Vintage Fairy Illustrations from Djer-Kiss Advertisements
Below are a couple more free fairy illustrations from Kerkoff's colorful ad campaigns of the early 20th-century. The first was produced in 1906 and the second was released in 1921. Both are now in the public domain for you to enjoy!
Kerkoff wasn't the only brand to adopt magical imagery in their advertising artwork. Here's a 1920s vintage ad from Mohawk Industries promoting rugs:
Fairy Illustrations from Children's Books
Vintage children's books are a go-to source for free fairy illustrations in the public domain. I found these from the Russian children's book, Azbuka v kartinakh, published in 1904.
Vogue Magazine
Vogue magazine also caught fairy fever. Check out this magazine cover from 1913! Fairy imagery was definitely aligned with the art nouveau principles of the time.
Discover More Free Fairy Images From the Past!
Need more free fairy images for your ideas and projects? Check out the following galleries for even more fairies, elves, and gnomes:
You can also browse the blog for every post and image on this site. Discover more whimsical illustrations in the Children's book gallery, where you'll find more amazing illustrations, like Animal Characters, giants, Witches, and more. Also you might also find something you like in the animal and nature galleries too!
Like what I curate and archive? Your support on social media helps me continue to do what I do here. Like and follow FreeVintageillustrations.com on Facebook, follow on Instagram, and pin your favorites to show your support!
Thanks again and stay tuned for more adventures in the public domain.
SEO/Copy Editor/Former visual merchandiser and retail buyer/Hobby Artist/History Nerd