The world of birds is rich with history, color, science, and most of all, beauty. Birds have been a subject of fascination for hundreds, probably thousands of years. Thanks to a flourishing community of ornithologists and natural history illustrators in the early 19th and 20th centuries, there is a rich archive of beautiful vintage bird illustrations in the public domain, I've collated the best of them here for you!
These images can be used for paper crafts projects like making your own cards, wrapping paper, scrapbooking, or party decorations. Or use them in digital applications like on your website or social, or as elements in graphics design and school projects. They're also beautiful as wall art – simply download, print on to good quality paper, frame, and hang!
There are a number of illustrators who's work contributed to the understanding of birds in nature. Their evolution, place in their unique ecosystems and their contribution to the flourishing of other plants and animals. Are you into birds? Then you're going to love this selection of vintage bird lithographs, chromographs and watercolors! We've got showing swallows, hummingbirds, owls, ravens and more, from all parts of the world. If you're not into birds, I think these gorgeous drawings might just change your mind, so stick with me.
Colorful, tiny, and delicate, like precious jewels in flight. Hummingbirds have long been a favorite in the birding world, and there is no lack of gorgeous hummingbird illustrations to show it!
The two images of hummingbirds we see here above are beautiful hand colored lithographs by John T Bowen. Bowen produced a huge amount of stunning lithographs in his time. What I love about his hummingbird illustrations is the inclusion of the plants that provide them with nectar (and that they pollinate as a byproduct). In the first image we see several Anna's Hummingbird hovering around some pink flowers, with one settling into a nest made of folded leaves. The second image shows three hummingbirds, two of which are Mango Hummingbirds, busying themselves around some vibrant orange and yellow blooms.
Straight out of a David Attenborough documentary are the Birds Of Paradise. Native to Indonesia, New Guinea and Northern Australia, they are some of the world's most beautiful birds. They are unrivaled in color, with glossy feathers that shimmer in tones of emerald, ruby and gold.
On the left here we have an illustration of an Empress of Germany bird of paradise, and we can guess by its long bustle skirt of soft golden plumes where it got its name from. I like that in many vintage bird illustrations the artist has also included a branch for the bird to perch on. This helps with the composition of the images, gives the bird a lifelike stance, and also hints at its natural habitat. The bird on the right here is a Superb Bird of Paradise (what a name), with iridescent neon turquoise and glossy black feathers.
Both the illustrations you see above are works by Richard Bowdler Sharpe, an ornithologist and curator of the bird collection at the British Museum of Natural History. The father of 10 daughters, many of which became colorists to assist him in his work, he was known as a genial man, funny and warm. Sharpe would have worked mainly from taxidermied specimens rather than from living birds in their natural habitats. Indeed while he worked at the museum he expanded the collection with such enthusiasm that its numbers grew from 35,000 to half a million.
Dark and foreboding, crows and ravens have often been used in art and story as a symbol of foreboding or to signify a dark presence. Starkly beautiful, crows and ravens, with their soot-black feathers, beak, and eyes would have been tough to draw. It would have taken a highly skilled artist, like Elizabeth Gould, who drew this carrion crow below, to bring such details out of the dark. Isolated on a bright white background, this member of the corvid family is a striking picture.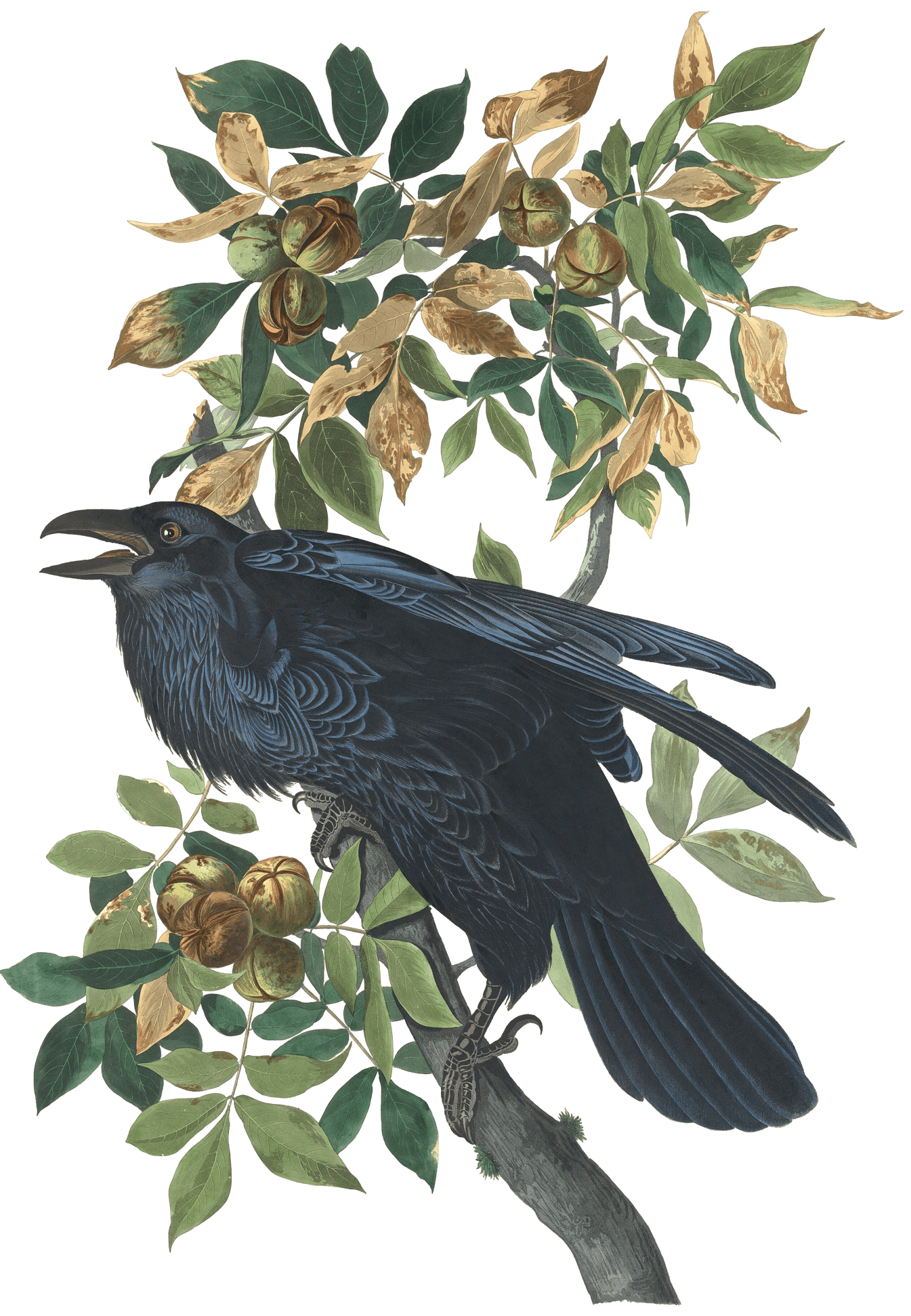 I can imagine these vintage crow and raven illustrations being used for classy Halloween invitations or decorations, perfect for adding a touch of spookiness without going down the typical jack-o-lantern route.
These swallow illustrations show the birds subtle, sweet beauty. They are tiny, smartly dressed little birds. I love their glossy feathers, often in shades of jet black, teamed with pops of rich red-brown, or iridescent blue.
Of all the birds, swallows are the ones that look like they have the most fun. Darting, swooing, doing aerial acrobatics – I remember running around on our field at school trying to catch them as they swished past (I never caught one). I only recently found out that they are aerial feeders, which is why their bodies are so aerodynamically shaped. They need to be able to swerve and dive with precision while in the air, and have the freedom of movement to change direction in a snap.
Swallows have become a popular motif in design and art. They're gorgeous on their own, but their size, shape and behaviour makes them the perfect candidate for repeat surface patterns. Imagine fabric with flying swallows scattered across the surface, swooping in different directions – a great fabric print for kids or a quirky womenswear print.
The swallow illustrations above are hand colored lithographs by John T Bowen, an American 19th century artist, known for his realistic illustrations of animals, people and nature.
Owls have been a favourite in art and illustrations for hundreds of years, which is why we have a great archive of owl illustrations in the public domain to choose from! Most vintage owl illustrations are from Europe and North America, where they are seen in greater numbers and varieties.
The sweet watercolor of a baby Long Eared Owl is by Edward Julius Detmold, who has a much softer, almost storybook style of illustration than natural history illustrators of the same period. This particular image was from The Book of Baby Birds written by Florence Emily Hardy, with illustrations by Detmold. The large image of a barn own directly below is again by bird illustrator Elizabeth Gould, whos work documented an extensive range of birds from the UK and also Australia in the 1800's.
Birds are one of the most fascinating groups of animals, and the rich archive of bird illustrations in the public domain holds as proof. The world of natural history illustration, is full of technically precise ornithological artworks from the likes of Elizabeth Gould and John James Audubon, bringing science and art together with a very particular aesthetic. Birds have also been used in story for thousands of years, so it's not surprising to find the occasional wise owl character in the mix, or a whimsical, softy colored lithograph of a bluebird or robin and child having an adventure in the forest together.
I hope you love these bird images as much as I do! We have a HUGE gallery for you to explore. You'll find more of all of the above, as well as flamingos, parrots, seagulls, pelicans – this list goes on. Enjoy!
View the entire collection of Vintage Bird Illustrations
We have hundreds of bird illustrations for you to pick from