Ah roses. The MOST classic flower of all, used in design and art in almost every theme and area you can think of. You'll find them everywhere, from moody, dutch master art, quaint english country garden sketches, and graphic, day of the dead inspired tattoo art.
Lucky for us, vintage rose illustrations are abundant in the public domain! But, that doesn't mean they're easy to find, so I thought I'd round up the best of the best for you.
They're all totally free to download and use – copyright free and in the public domain! Just click on the rose image you love to download, or jump through to the full rose gallery. We've also gone one step further and cleaned up the backgrounds for you! So they're ready to go, isolated on a white background for ease of use.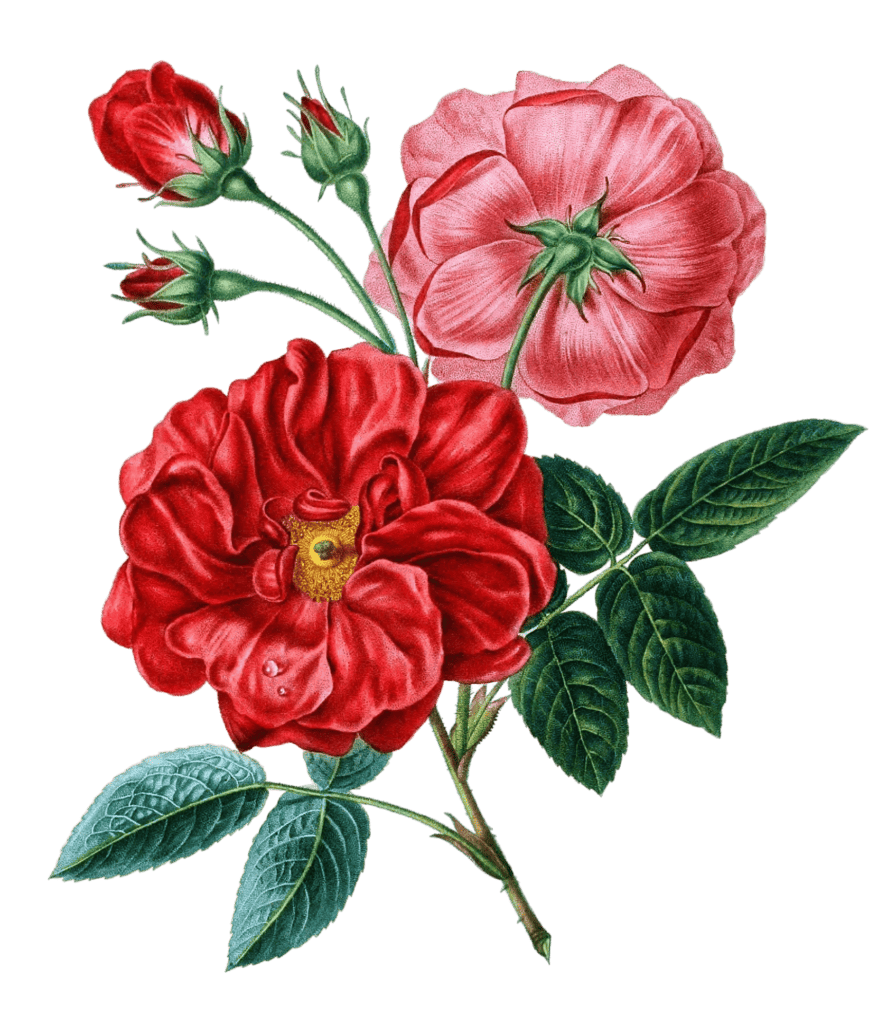 Antique red rose with rosebuds
This beautiful antique rendering of a Rose de Provins is old-fashioned, but beautiful. We see both the face of the rose, fully opened to us, and the back of the bloom's head. Accompanied by a sweet spray of rosebuds, this vintage rose illustration would be perfect for a decoupage projector to create a fabric print.
This work is by French botanical artist Henriette Antoinette Vincent, who produced a huge number of fruit and flower illustrations in 1800s. We extracted this image from the antique book Etudes de Fluers et de Fruits Peints Dapres Nature which showcased some of Vincent's best work.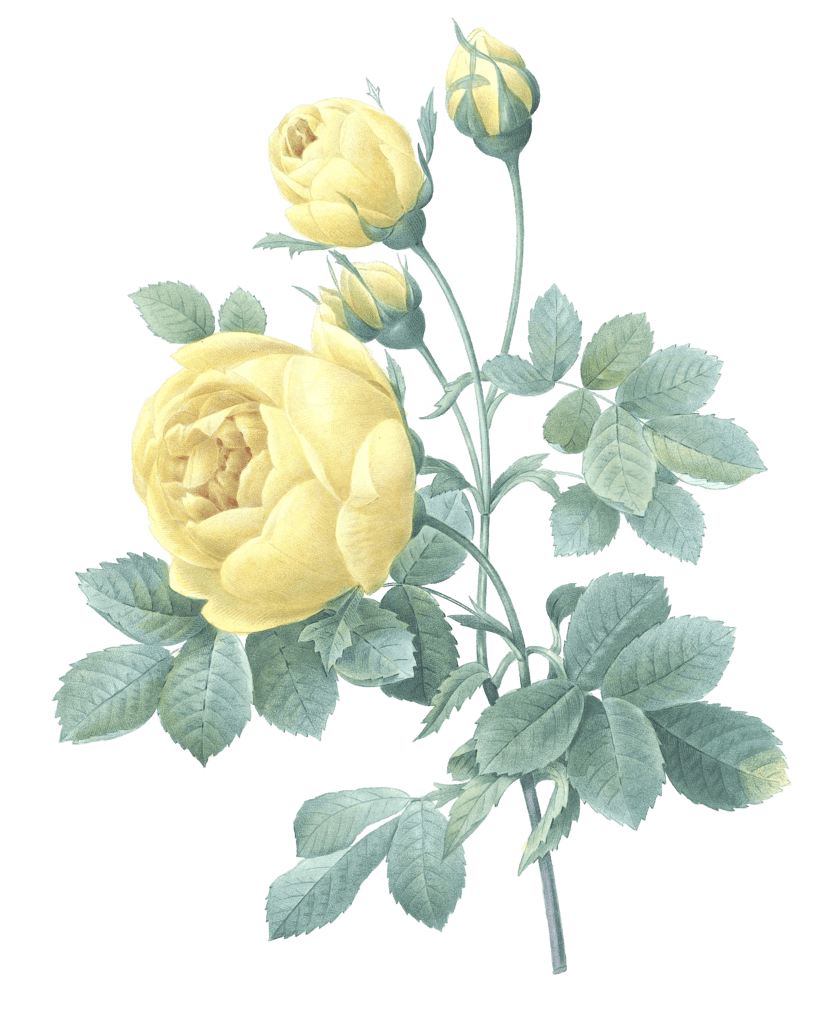 Vintage yellow rose
I love a yellow rose! Pink and red roses are beautiful, but they're so overly feminine and romantic that they're often not appropriate for certain situations. Yellow roses are gender and emotion neutral, so there's no worrying that your intention will be misread. This vintage yellow rose illustration shows a stunning full bloom, almost completely open, paired with a just-about-open smaller flower, and two closed rosebuds. The muted colors have a real antique feel, I love the silvery green and washed-out lemon. They'd make beautiful graphics on some gender-neutral baby shower invitations or DIY decorations.
This antique rose illustration is by Pierre Joseph Redouté, who was arguably the best-known botanical artist in history and the predecessor to the well-known dutch botanical art movement. His work Choix des plus belles fleurs et des plus beaux fruits showcased a beautiful selection of his work which reproduced his stunning watercolors through detailed copperplate printing.
Vintage purple rose
This purple vintage rose illustration is just so rich in color! And look at the layers of petals! You can just imagine how brilliant and luxurious the real specimen must have been. It's an unusual type of purple, with a reddish undertone that reminds me of wine. This rose has no background, we've tidied it up for you so that you can use it easily as clip art or graphics without mucking about on photoshop!
This rose illustration is by Charles Anton Lemair, a French botanist best known for his work exploring and illustrating the cactus and succulent family.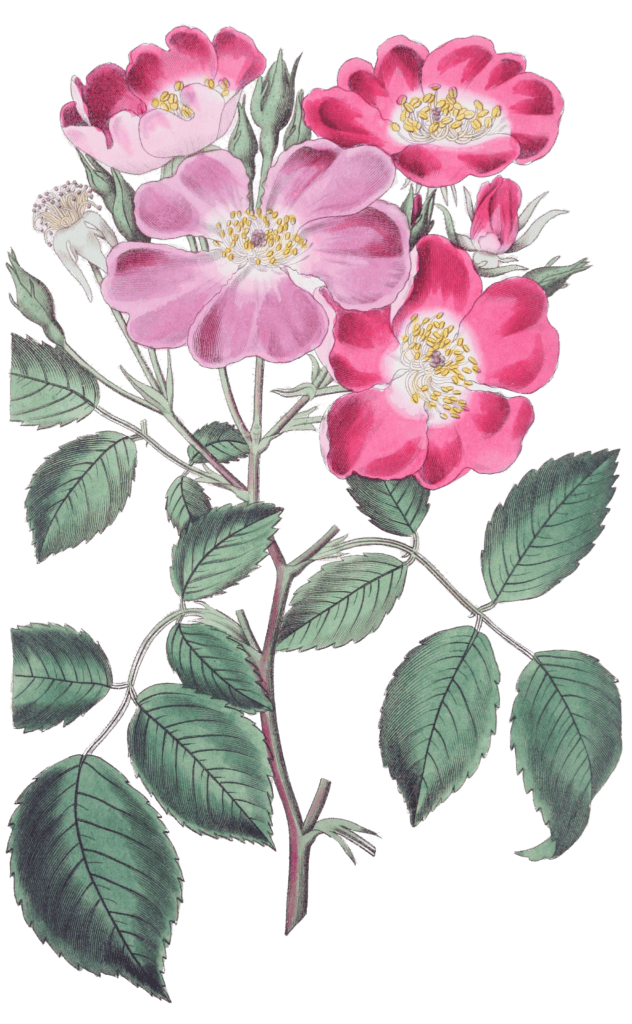 Pink boho vintage rose illustration
I just love this bright, hot pink boho rose watercolor by the hugely prolific botanist and artist Sigmund Edwards. I know that roses with full heads of petals are usually the most popular but I can't help loving a single layer of petals. It makes the typically luxurious and opulent rose seem much more whimsical and free-spirited – almost weed-like, in the best bohemian way.
Here, three bright magenta roses are paired with another in a softer, more lilac tone. A rose without any petals left at all pops out against a white background. I also love the green of the leaves and the deep yellow of the stamen details. This is a perfect graphic for a bridal shower invitation, or print out a rose in every color of the rainbow and hang them as bunting! I would also LOVE to see this printed on silk.
This image is from the public domain book Edward's Botanical Register, which you HAVE to check out, if botanical illustration is your thing. You'll find a whole archive of roses, plus lilies, hibiscus, hydrangea, and more.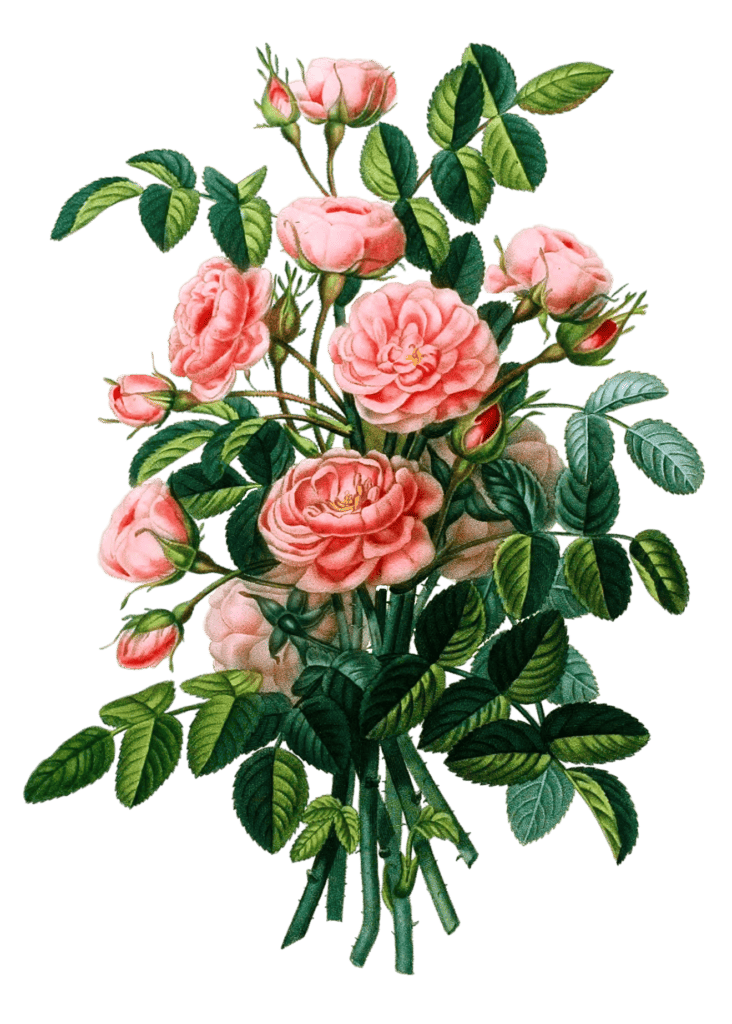 Full bunch of pink coral vintage roses
Just want an illustration of a bunch of pink roses? This big coral-colored bunch of flowers might just be what you need. Big and fluffy, they burst out from their leafy green branches. My favorite detail in this illustration is all the tiny rosebuds. The artist (this is another by the masterful Henriette Antoinette Vincent) has decided to show us roses in all stages of blooming. We have several fully opened, like pompoms, some not quite as unfurled, and of course those tightly closed buds, with pink peeking through the green.
As always this image has been isolated to make it easy for you to use.
Vintage gardening catalogue with roses
Gotta love an overly patriotic packet of seeds! I just love vintage packaging and advertising, and this antique seed catalogue from the Iowa Seed Co is infused with nostalgia.
In this vintage ad, the roses pack a punch right up front, framing a picture of a man flying an American flag, while he proudly stands in front of a full field of cabbages and a barrel of ripe tomatoes. The vintage typeset reads "28th Annual Catalogue. Iowa Seed Co, Des Moines Iowa, Seedsmen to the American People."
The pink, red and white roses in this illustration are actually wild roses, the state flower of Iowa, it seems! Wouldn't this make the coolest print on a tote bag or tee shirt for a garden-lover in your life?! We have a full gallery of vintage advertisements if this aesthetic is more your thing!
Single red rose on a vintage travel poster
Anyone else getting Beauty and Beast vibes here? single red rose, snow capped mountains and a castle on the edge of a forest.
I love this vintage travel advertisement for Switzerland because it shows a typical Swiss nature scene, but the addition of a huge, single red rose adds drama and romance. It's such a vibrant, velvety red, and really pops out against that blue sky.
I love vintage travel ads like these because they make such great t shirt prints, postcards and wall art.
Luckily for you, this is just a TASTE of our vintage rose illustration archives, so make sure you check out the full collection! And you'll find flowers of every kind in our vintage botanical illustration gallery, with work from the best floral artists in the public domain.
Browse our full archive vintage rose illustrations
All copyright free and in the public domain! Free to download and use as you wish for personal or commercial use.