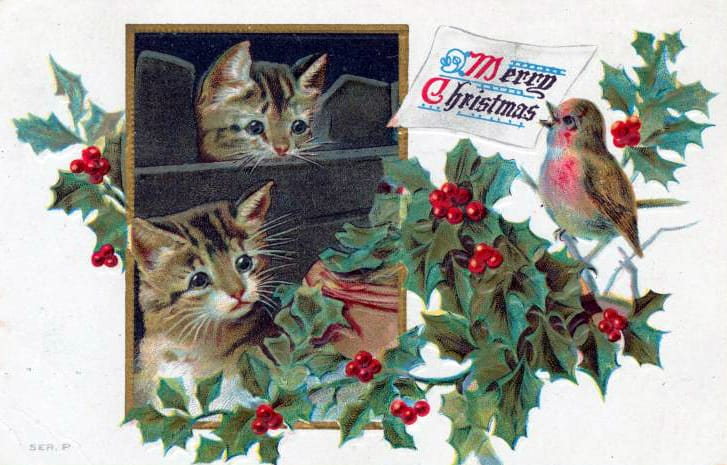 Hope everyone is having an awesome weekend! I sure am. Someone just scored a sweet deal on a bunch of vintage trading cards (those images to come soon!)
Now I'm in the Christmas spirit. And I hope you are too. Coming your way are eight vintage Christmas cards in the public domain, originally published in the early 20th century.
I edited these images a bit in Pixlr, but you can find the originals under 'Christmas cards' tag in the NYPL public domain collection online.

How to Print & Decorate Your Vintage Christmas Cards
Printing out your vintage Christmas cards is super easy, but decorating them is the fun part. Use card stock paper to print out your greeting cards and decorate them with puffy paint, glitter, or found objects like buttons, yarn, and dried flowers. You may even like them better as is.
Other crafty ideas to consider:
Resize them to create small note cards or magnets
Resize them even smaller for Christmas jewelry and pendants
Create your own Christmas wrapping paper
Make your own Christmas mugs
Change the image resolution in Photoshop to create Christmas posters
Use Photoshop to convert images into simple lined drawings for coloring books
For more free Christmas illustrations check out last year's post on antique Xmas graphics and typography.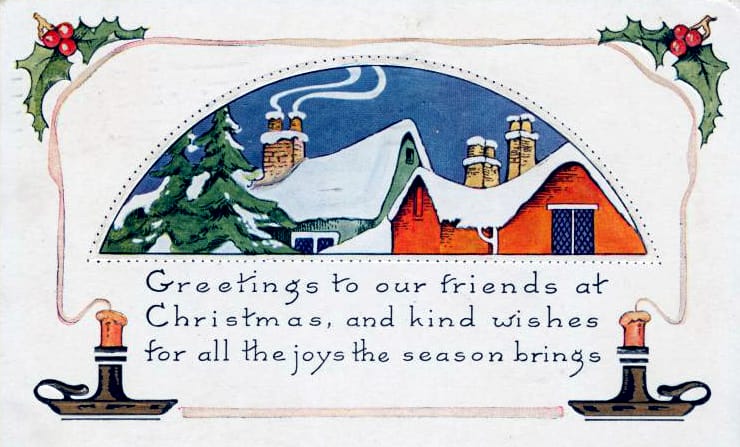 Editing Your Vintage Christmas Cards for Free
If you follow this website, then you know I don't hide my love for Pixlr. Pixlr is Autodesk's free online image editor. It's the one I use the most, but there are other free editors as well.
In the mean time, here are 10 more free online photo editors to try, courtesy of The Balance:
Gimp
Paint.net
Inkscape
EasyComic
Pixia
Photo Pos
Artweaver Free
Photoscape
Krita
Photobie
The History of Vintage Christmas Cards
Ever stopped to think of how Christmas cards came to be?
Here are a few tid-bits on the history of Christmas cards from Smithsonian Magazine:
The most talked-about origin involved wealthy 19th-century arts patron, Sir Henry Cole, who wanted an easier way to send Christmas letters in bulk. So he contacted artist, J.C. Horsley, and took their illustration to a London printer to print 1,000 copies. These original vintage Christmas cards were printed on Cardstock and featured people celebrating around a holiday table or helping people in need.
These cards were produced in the late 1840's, but Christmas cards themselves didn't catch on till decades later.
*Henry Cole also played a significant role in developing London's renowned Victoria and Albert Museum.

More Free Christmas Stuff
Before I wrap up this post, here are more free Christmas resources to check out. Enjoy!
Watch free Christmas movies
Free stock photos of Christmas trees
Christmas Gifs to share online
Twinkling Christmas lights graphics
Listen to free Christmas music online
More free Christmas music downloads
Free printable Christmas gift wrap
Big list of Christmas freebies
Get free Christmas catalogs