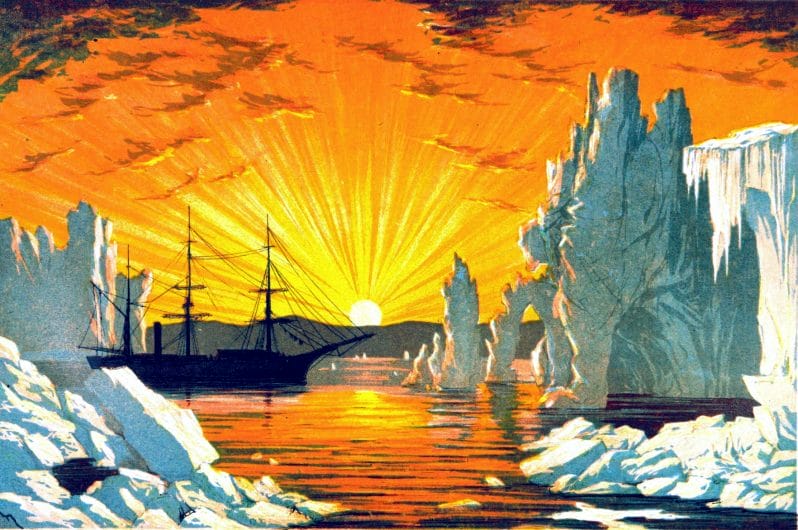 It's getting colder and I can't wait for snow!
I've also been spending some serious quality time with the British Library's public domain collection. They have awesome vintage iceberg illustrations, along with arctic animals, igloos, and more illustrations from 19th-century arctic expeditions.
Arctic foxes, penguins, walrus, and more cold-weather animals are definitely on the way. In the meantime, check out these sweet vintage glacier images (love that sunset iceberg above!)
Where Do Icebergs Come From?
So, how exactly do icebergs form?
Let's ask our friends at the National Snow and Ice Data Center:
Icebergs are formed when large chunks of ice sheet break off from glaciers. In case you were wondering the difference between an iceberg and a glacier.
Icebergs vary in size, ranging from "ice cubes" to over 4,000 square miles!
Smaller icebergs, known as "growlers", are actually more dangerous since they're difficult to spot at night.
Scientists study breaks in icebergs to learn more about climates and ocean currents.
The most "significant ice shelf" in Antarctica is Larson C, as a 2,000 square mile iceberg is expected to break off in the near future.
Iceberg Illustrations Source: 19th Century Arctic Expeditions
The vintage illustrations in this post depict arctic travels, voyages, and fictionalized scenes from the 19th century. Featured in such titles as "The Frozen Crew of the Ice-Bound  Ship" and "A Voyage of Discovery, made under the orders of the Admiralty, in his Majesty's ships Isabella and Alexander…."
More Free Resources for Icebergs and Glaciers!
Want even more free arctic stuff? Who doesn't? Check out the following tips, printables, illustrations, stock photos, media, and graphics below.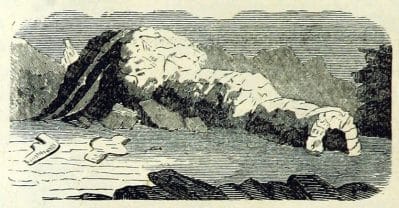 Iceberg science activity for kids
Free stock photos of icebergs
Free iceberg vector art
Crayola glacier coloring page
Arctic animals coloring book
Preschool printables – arctic animals
Arctic flashcards
Free eBooks about the arctic
Free documentaries about the arctic
SEO/Copy Editor/Former visual merchandiser and retail buyer/Hobby Artist/History Nerd