Happy Saturday! I have a serious sweet tooth post coming your way. It's only fitting since my last batch was on Valentine's Day. Personally, I think these guys are great for learning how to draw, collage, creating imaginative works, and designing hidden picture video games.
But where did these yummy illustrations come from? A cookbook from the the early 20th century – 1908 to be exact. It was originally archived by the Library of Congress, but you can also find the full color-illustrated cookbook on Archive.org. All the images in this post were curated from the chocolate dessert section. And that section was huge, as the cookbook was also sponsored by a chocolate company.
So without further ado. Let's get chocolate wasted!
2-Ingredient Chocolate Desserts
Don't have time or money to waste? These recipes only take two ingredients to make and are done in a snap. I found these recipes on AllRecipes.com,  Enjoy!
Oreo Cookie Bark
Nutella Coconut Fudge Pops
Chocolate Covered Potato Chips
Chocolate Blueberry Bark
Dark Chocolate Almond Clusters
How to Make Your Own Dessert Illustrations
Need help drawing your own chocolate illustrations? Check out these tips and tutorials for drawing candy, ice cream, cake, and more yummy treats.
And these…
How to Score Free Chocolate Samples
Free chocolate, anyone? Here are some brands and services that give away free chocolate samples, and a few other tricks for scoring chocolate freebies.
Attend a food fair
Go to the mall. If you're lucky, you can score free samples.
2000 Freebies has a ton of free sample links. I found some for Lindt chocolate, Oreo cookies, and Godiva.
Check websites and coupons of your favorite chocolate brands for fee samples opportunities.
Look for new chocolate brands that are giving away free samples to promote their brands.
And my personal favorite: free sample Saturdays at Costco 🙂
And one last chocolate illustration before I go.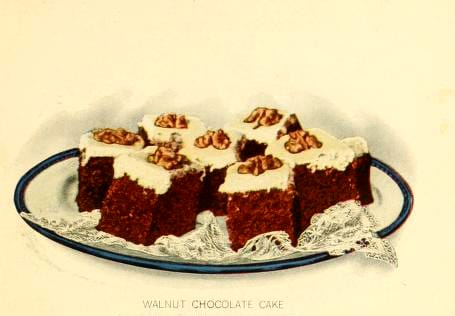 YUM.
Until next time, internet.
Need more food illustrations in your life? Want to help this website grow? Like or follow FreeVintageillustrations.com on Facebook, share on Pinterest, or whatever social media of your choice. You can also subscribe to this website by email below:
[blog_subscription_form]