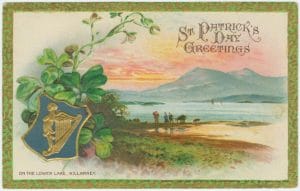 I realized I didn't have too much stuff for Saint Patrick's Day.
I wanted to expand my pool of resources anyway and found myself sifting through the public domain collection from the New York State Public Library.
Glad I did because I found these super festive St. Patrick's Day Postcards.
I made a few brightness and contrast adjustments with Pixlr, but you can also find the originals right here. 
These vintage St. Patty's Day postcards were produced sometime between the 1930s and 40s. The NYPL thoroughly reviewed their copyright status and found that you are "free to use [them] in any way that is permitted by the copyright and related rights legislation that [apply] to your use."
Enjoy!

Fun Facts About St. Patrick's Day
Curious about the history of St. Patrick's Day?
Me too! So I did a little research and compiled these fun facts for your flashcards, blogs, etc.
St. Patrick is the patron saint of Ireland.
St. Patrick is credited with introducing Christianity to Ireland.
Scholars believe St. Patrick died in the year 461 on March 17th.
Shamrock connection: Legend says that St. Patrick would use shamrocks to describe the father, son, and the holy spirit.
Roughly 100 different St. Patrick's Day parades on held in the U.S on March 17th.
The largest St. Patrick's Day parades are in Boston and New York City.
The very first St. Patrick's Day parade was held in the United States, not Ireland, in 1962.
In 1962, Chicago dumped green dye into the Chicago River to trace and remove sewage. This started a tradition of Chicago dying their river green every St. Patrick's Day.