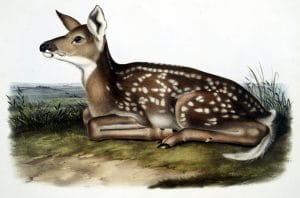 This website needs some deer.
So I sifted through the New York State Library's public domain archives and found six really cool vintage animal illustrations of bucks, fawns, does, and multiple deer.
I cropped and tweaked the colors and contrast a bit to make them pop. You can find some originals here and get a little more info about these 19th-century illustrations.

Speaking of deer, they're everywhere, right?
I thought I'd do a little research on deer and dig up some fun facts on this popular and populous animal.
Check this out:
If you're into all that spirit animal stuff, people who claim deer as their spirit animal are apparently highly sensitive with a good intuition. Other aspects include gentleness, tackling problems with maturity, and quick adaption skills. Cool!
Now, for some science: deer are part of the Cervidae family which is broken up into two primary groups, Cervinae and Capreolinae. Arguably, the most popular Capreolinae species are Reindeer and Moose.
All male deer (or bucks) have antlers. Actually, all but one. Chinese water deer males are the only deer species that do not grow antlers. Instead, this unique deer species grows long canine tusks.
Deer are herbivores and primarily consume a diet of young leaves, fruit, fungi (mushrooms), berries, fresh grass, and lichen.
The Oligocene period ushered in a proliferation of new early cervid (deer) species.
8 Deer Inspired Craft Projects You Have to Try
Need some inspiration for that next craft or classroom project? Check out these clever and creative deer projects you can do with minimal supplies.