I love love loooove 19th-century botanical illustration! So when I came across this gem in the British Library archive I knew I had to dive right in. And, share these gorgeous vintage flower illustrations with you, of course.
Specifically, this vintage flower illustration book "The ladies' flower garden of ornamental bulbous plants" is all about flowers that grow from bulbs! Bet you never guessed that. So we've got lush, charmingly vintage illustrations of tulips, freesias, hyacinths, irises, and soooo many more bulb flowers. It's a very comprehensive resource, with lots of flower varieties I had never ever heard of, despite my foray into running a floristry business a few years ago.
The story behind the artist
If you're anything like me, the story behind the illustrations is just as important as the artworks themselves. I have a real thing for "forgotten women artists", particularly those in the natural history illustration area. Many that had decent commercial success, but due to the time in which they lived, their names haven't stood the test of time like their male counterparts. So, I'm making it a bit of a personal mission of mine to unearth as many as I can!
The author of The Ladies' Flower Garden of Ornamental Bulbous Plants is fascinating. Born into a relatively wealthy family in 1807, Jane Loudon received a decent education, and even traveled overseas with her father for a year. An almost unheard-of privilege for a female teenager at the time. This broadened her understanding of languages, and other cultures and no doubt sparked her curiosity about the world around her.
It wasn't all roses though. She lost both her parents quite young and ended up being orphaned and penniless by age 17. But, with a big dose of resilience and a good education behind her, she was able to establish herself as a science fiction writer. She had some success with a futuristic novel called "The Mummy!". On this, she says "on the winding up of his (her father's) affairs that it would be necessary to do something for my support. I had written a strange, wild novel, called the Mummy, in which I had laid the scene in the twenty-second century, and attempted to predict the state of improvement to which this country might possibly arrive." Ambitious, imaginative, and ahead of her time. Jane was regarded as scientifically forward-thinking and in her own way, a feminist of the 1800's.
Sideways shimmy into botanical illustration
In an unexpected way, her sci-fi writing brought her to horticulture. A man, John Claudius Loudon, was a keen fan of "The Mummy!" and had written a favorable review of the book in a journal he edited. Eventually, he managed to meet the author, who he was surprised to learn was a woman. The sci-fi fanboy and the lady-writer soon struck up a relationship and got married. He was a well-known botanist and garden designer, so she soon found herself immersed in the world of horticulture.
After collaborating with John Loudon on a gardening encyclopedia, she saw an opportunity for an entry-level gardening book for women. And so, in 1838, her first illustrated botanical book, Instructions in Gardening for Ladies, was born. She quickly realized how valuable illustrations were to books of such a visual nature. So what did Jane do? Well, this ever-resourceful powerhouse just taught herself botanical illustration and watercolor, of course!
Botanical and floral illustration
As you can see, our girl Jane absolutely nailed it. We have her to thank for some of the best vintage flower illustrations around. Her illustrations of common (and some not so common) garden flowers are absolutely exquisite. You can see her scientific eye coming through, her strong understanding of plants and horticulture. This matched with the softness of watercolor paint and the fun of color – it's a truly beautiful combination. Through her intricately detailed and richly colored floral illustrations, Jane influenced a whole new generation of female home gardeners. Let's take a closer look at some favorites from the book, shall we?
South American bulb flowers
I love this illustration of a lively bunch of South American bulbs. There's movement, and geometric form, but also whimsical color thanks to that mix of icy blue, sunny yellow, and lilac. Like a flutter of butterflies dancing above long grass! She's also showing off her signature style – a composition of similar flowers grouped together in an almost bouquet-like fashion. This sets her apart from more rigid, single flower layouts more commonly seen in scientific journals of the time (which I LOVE too, and we'll be sourcing lots of those for you soon).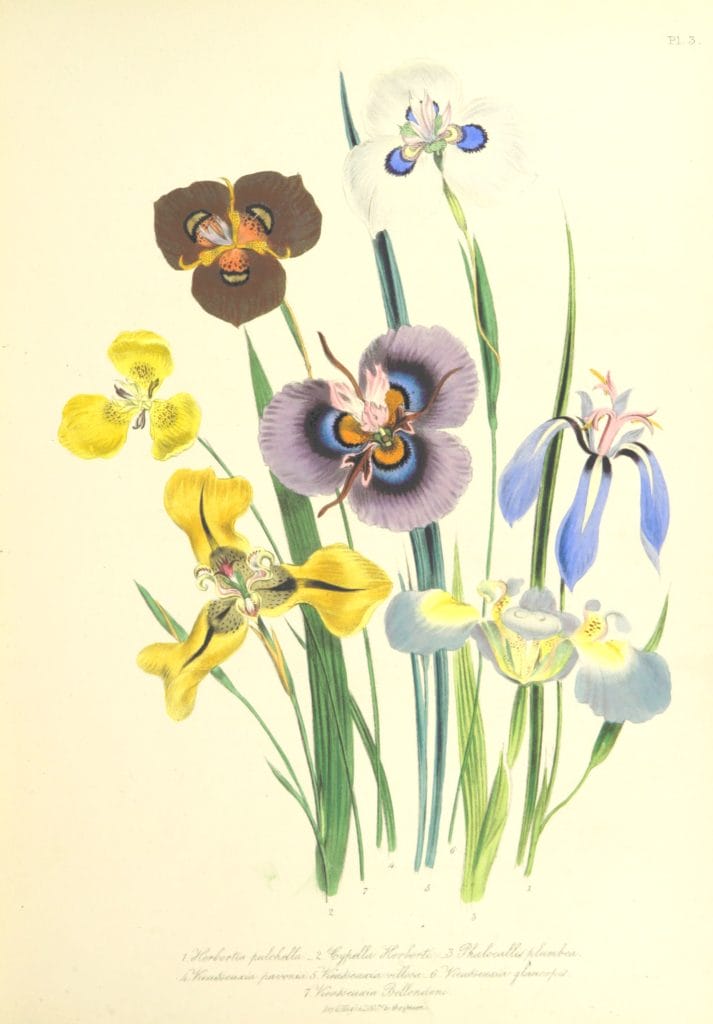 Illustration of a Common Tiger Flower
I just love the vibrant color in this vintage flower illustration! These gorgeous blooms get their name from their spots apparently – looks like someone got their big cats muddled. Tigers are the stripey ones, yo. But hey, a leopard print flower? I'm here for it, whatever they want to call it. Apparently, Tiger Flowers are very short blooming, less than 24 hours – which means that Jane would have had to really knuckle down to get this right, assuming she was working from a live specimen.
The powerful composition of this hand-colored lithograph packs a punch. We've got Big-Mama tiger in the middle, balanced out by smaller, similar variations lower down on either side. There's no mistaking who's boss in this bunch. The intense red and yellow really pops out from the page, compared to the more subdued purple and chartreuse of the small blooms. And, thoughtful placement of the larger, dark green leaves balances everything out.
Ixia flower illustrations – turquoise flowers?!
I had never heard of Ixias – also known as Corn Lilies – before I discovered the art of Jane Loudon, but now I'm going to be hunting these babies down IRL. I did NOT know that naturally occurring TURQUOISE flowers existed – did you? I love the fun of this illustration – in fact, all of her vintage floral illustrations are quite fun – but this one, with its zany colors is a particularly good example. I also feel like this one is a fabulous nod to her sci-fi roots – the uncanny colors and unnaturally geometric petal shapes seem like something you'd find on a distant planet. I can see this image being used on a sci-fi themed valentine's day card.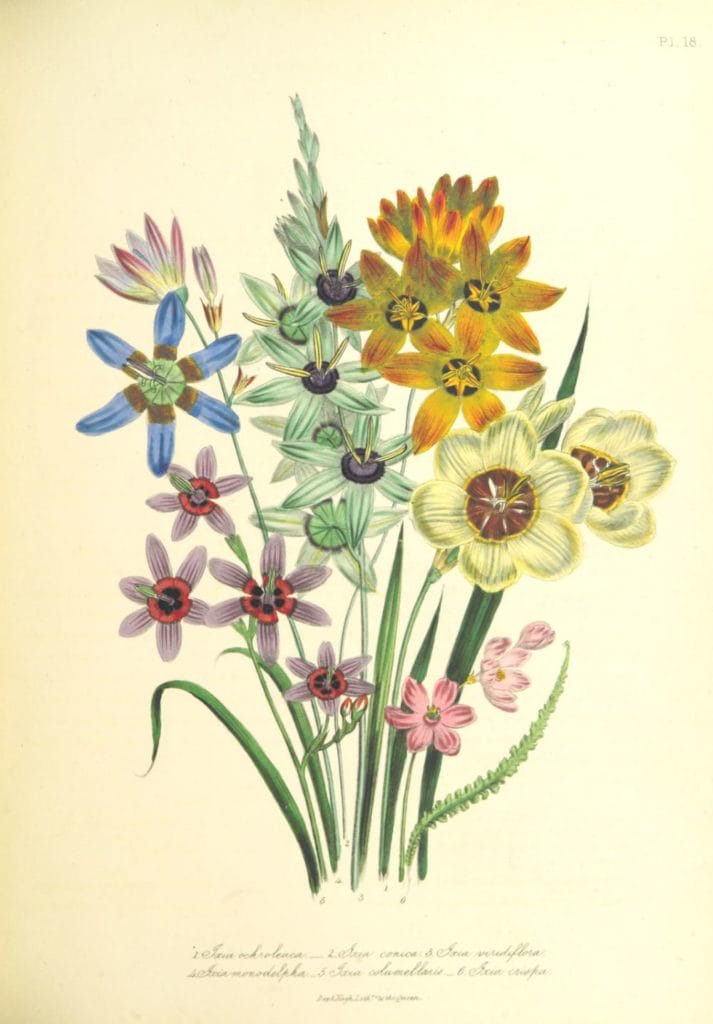 All of the Allium – gorgeous…garlic?
I love garlic, but I never really thought of it as more than a delicious kitchen essential. In fact, sometimes it's easy to forget that food is just plants! AND most of the delicious veggies we eat? They're flowering plants, no less! The garlic or Allium family is one of the prettiest flowering groups around. Bursting, dandelion-shaped heads of flowers, on proud, straight stalks, and in a stunning range of colors. The star of the show for me in this floral illustration is that dreamy blue puff in the middle. I love how she's created a halo around the edge using uniform tiny blue flowers but then created softness in the middle with more random placement of the blooms. Not all Allium bulbs are edible, but the ones that are, generally have edible flowers too! Was there ever a prettier garnish for your pasta? This vintage flower illustration would make THE most gorgeous print on a linen tea-towel.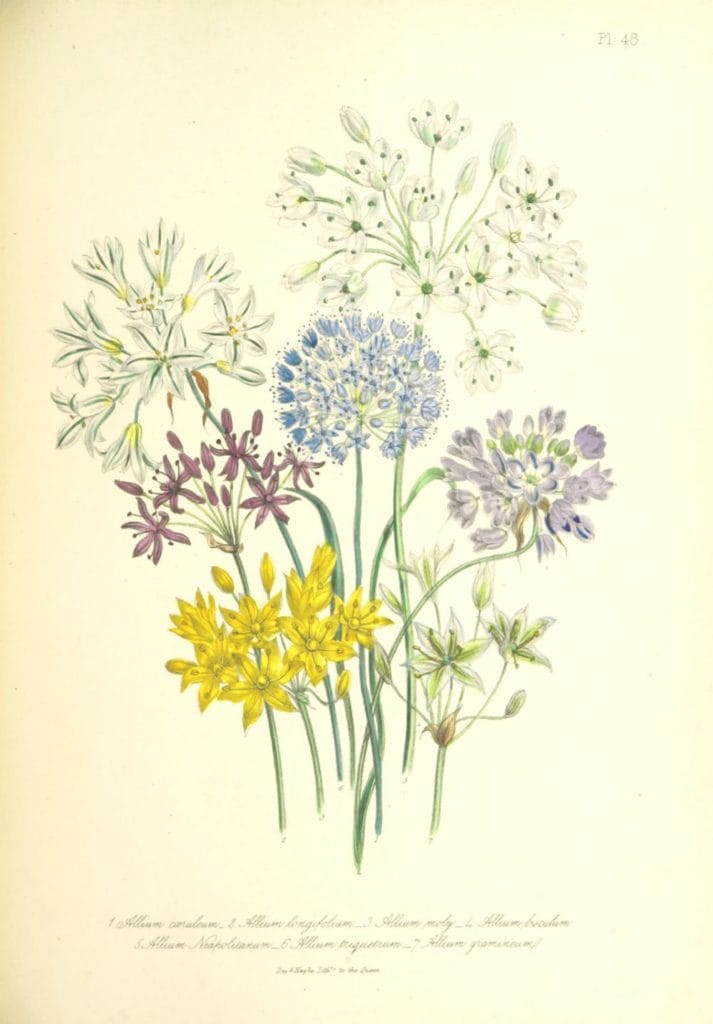 Vintage Tulip Illustration
A classic beauty, I couldn't not show you this absolute stunner of a vintage tulip illustration. Jane has kept us on our toes with scale in this one. Tulips are one of the bigger bulb flowers and she's used rich color and a bigger size bloom to convey a heavy, luxurious feel. I absolutely love tulips – often underrated, they come in the most delicious colors and as a cute flower, they last up to 2 weeks. This illustration shows us a few varieties – plain, variegated (where the color changes through the petal), and parrot (my fave, with ruffly edged petals).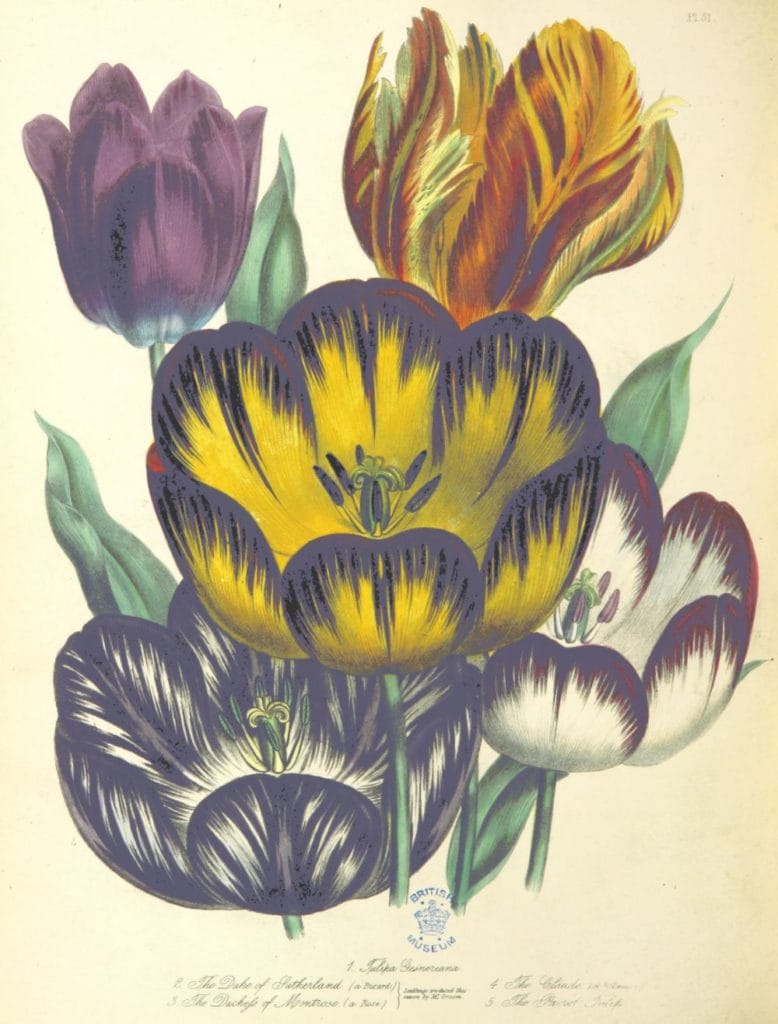 More free vintage flower illustrations, please!
I hear you! Lucky for us, all of Jane Loudon's work is in the public domain. So it's available for you to use however you fancy! As much as we love the look of the yellowed, aged paper, we get that it's not ideal for graphic designers. So we've tidied up the background of Jane's blooms to make them a bit more user-friendly. Everyone loves an isolated vintage flower illustration! Perfect for use on your own website, on invitations, in packaging design, on social media, whatever.
And thanks to Jane. We are indebted to pioneering women like you who paved the way for women in the arts and science.