Whimsical, magical, ethereal! These are just a few words that sprung to mind when I recently discovered the exquisite work of British illustrator Warwick Goble. I love that my work here gives me an excuse to spend hours going down internet rabbit holes so I can find you guys the most amazing images from the public domain! And exploring the magical world of vintage fairy illustration has got to be one of my favorite ways to get lost in exploring these treasures.
Who of us didn't spend our childhood years curled up with a favorite fairy tale book? I know I did, and it's safe to say that for me the pictures were just as (or even more) important than the story. The period 1850-1925 was known as the Golden Age of Illustration due to beauty and richness of illustration being produced at the time. Public demand was strong, and books and magazines had ramped up production due to popularity and industrial capabilities. Most importantly for us illustration nerds, the skill and style of illustrators at the time were simply stunning.
Warwick Goble was born in 1862 and trained as an illustrator at the Westminster School of Art. He started out as a contributor to several monthly magazines, and after a few years moved into book illustration. I was fascinated to find out that he illustrated H.G. Wells' first edition of War of the Worlds – he scored that gig after having illustrated installments of the story through one of the magazines he worked at. Even more interesting though was the fact that Wells didn't love the artwork – he stated that the publication would have been better without it! From not-so-stunning sci-fi to much more whimsical and into the style he is most well-loved for, he became an in-house illustrator for MacMillan Publishers. This gave him the opportunity to work on well-known books such as The Water Babies and a later edition of Treasure Island.
Along with his dreamy fairyland and fantasy illustrations Goble ended up being particularly well known for his work accompanying Japanese and Indian stories that were popularised in British culture. You can download many of his works here, all copyright free! But let's take a look at some of my faves across his life's work, shall we?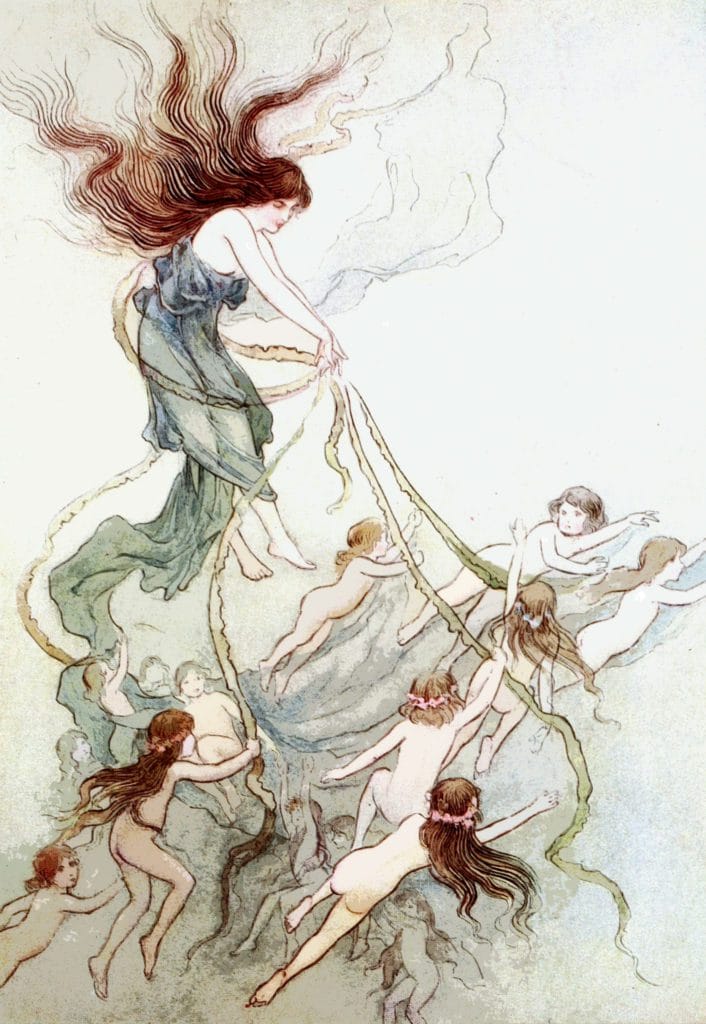 1. "She was the queen of them all".
This beautifully light and floaty vintage fairy illustration is from The Water Babies, published in 1909. It captures the moment Tom sees the Queen of the fairies for the first time "her shawl and her petticoat floated off her, and the green water-weeds floated round her sides, and the white water-lilies floated round her head, and the fairies of the stream came up from the bottom and bore her away and down upon their arms". I love the composition of this image, using the weeds as a line of direction for our eyes to follow.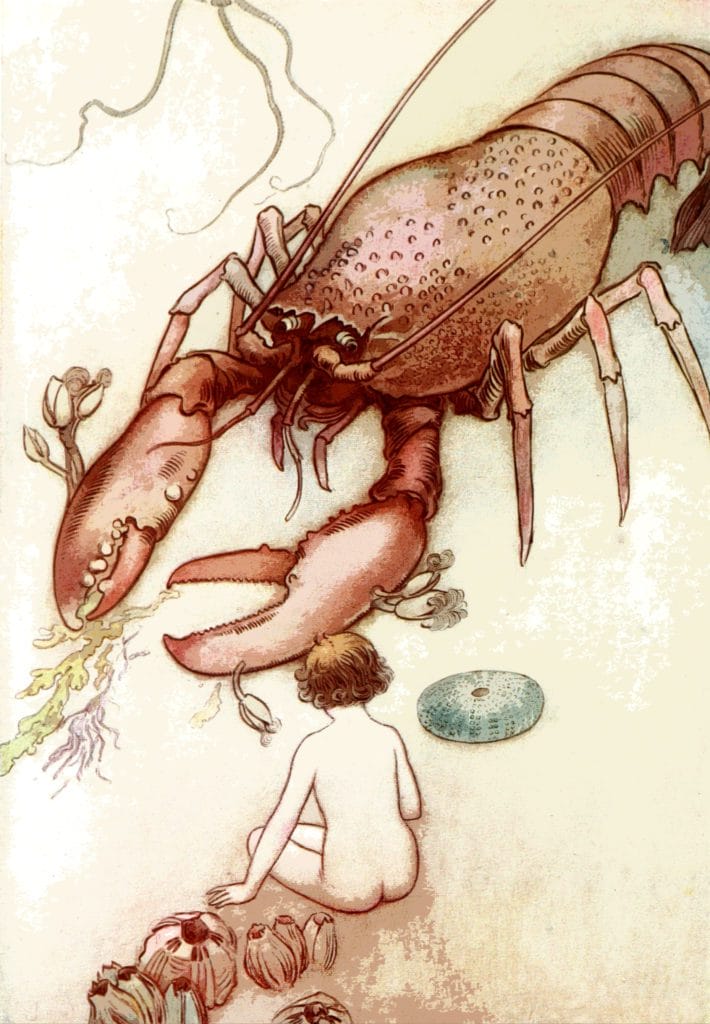 2. "Tom had never seen a lobster before…"
Lobsters tend to look great in almost any illustrative form, and this one is no exception. Big and bright, and surrounded by small marine treasures like seaweed, urchins and a variety of barnacles. The scale of the lobster vs Tom just adds to the magic and wonder of an already fantastical story.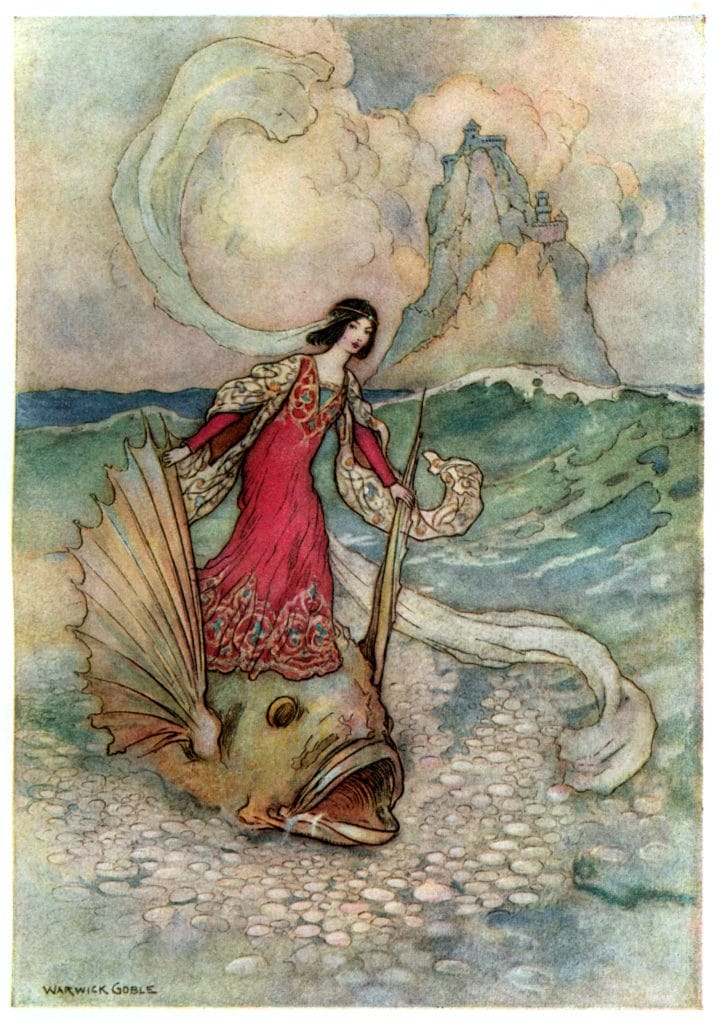 3. "Rita riding on the dolphin".
This illustration from The Three Enchanted Princes, Stories from the Pentamarone is a dream. Most likely a lithograph that was then colored with watercolor, the background is in gorgeous rainbow-icecream shades that bleed together to suggest a sunset. The island blends into the clouds just enough for us to look twice so our eyes can define it. Then we have Rita, bold in her blood-red gown, riding on the back of a giant fish. All the sources I found reference a dolphin – but this clearly isn't! In any case, the fins of this dolphin-fish add a wonderful, parasol-like structure to the image, and give our gal Rita something to hold on to.
4. "Off ye icy spirits, fly!"
John Keats' Song of Four Fairies is featured in The Book of Fairy Poetry by Dora Owen. This fully illustrated book by Goble is masterful. It's filled to the brim with gorgeous vintage fairy illustrations. You can see in this fairy book that he's developed as an artist, using richer colors and creating more depth than in earlier works. I love the way that this image tells a story and let's also notice that the mountains in the background are a nod to the Japanese woodblock print style. Goble was well known for his Japanese-influenced work and we can see here that even though the story itself isn't Japanese in origin, the style is something he carried through much of his work.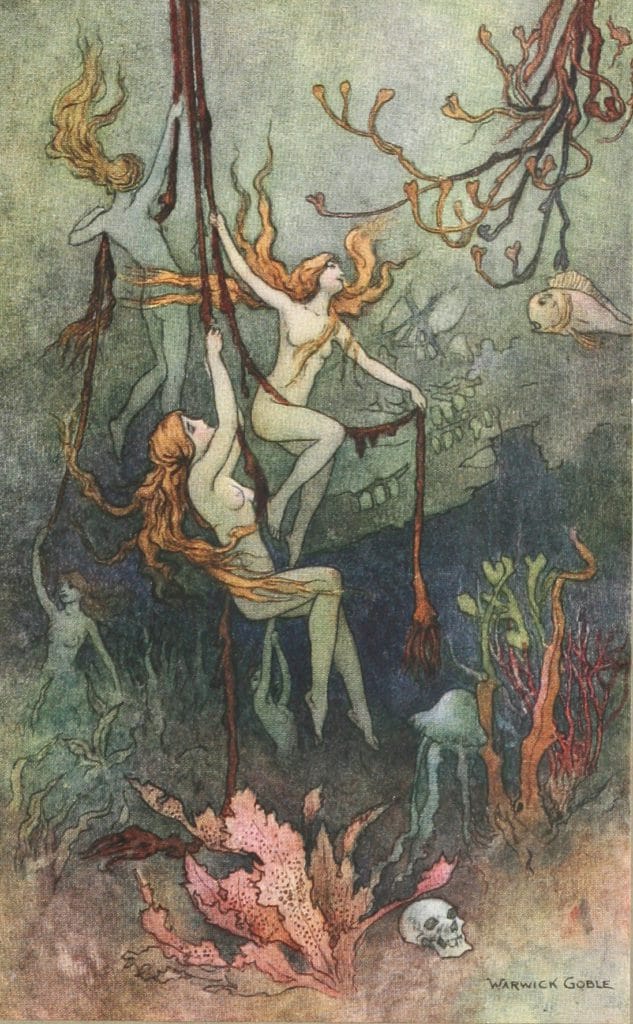 5. "Sea-nymphs hourly ring his knell."
Another dip back into The Book of Fairy Poetry brings us this eerie, unsettlingly beautiful illustration of water nymphs. We have Shakespeare to thank for inspiring this one! This poem is known as "A Sea Dirge" and is a song by Ariel the sprite from the play The Tempest. It references shipwrecks and drowned fathers "Of his bones are coral made, Those are pearls that were his eyes".
Floating and suspended by seaweed, four nymphs (spot that little one bottom left?) drift in the dark waters. Dark shapes in the background, muted colors, and a skull on the ocean floor add to the sinister atmosphere.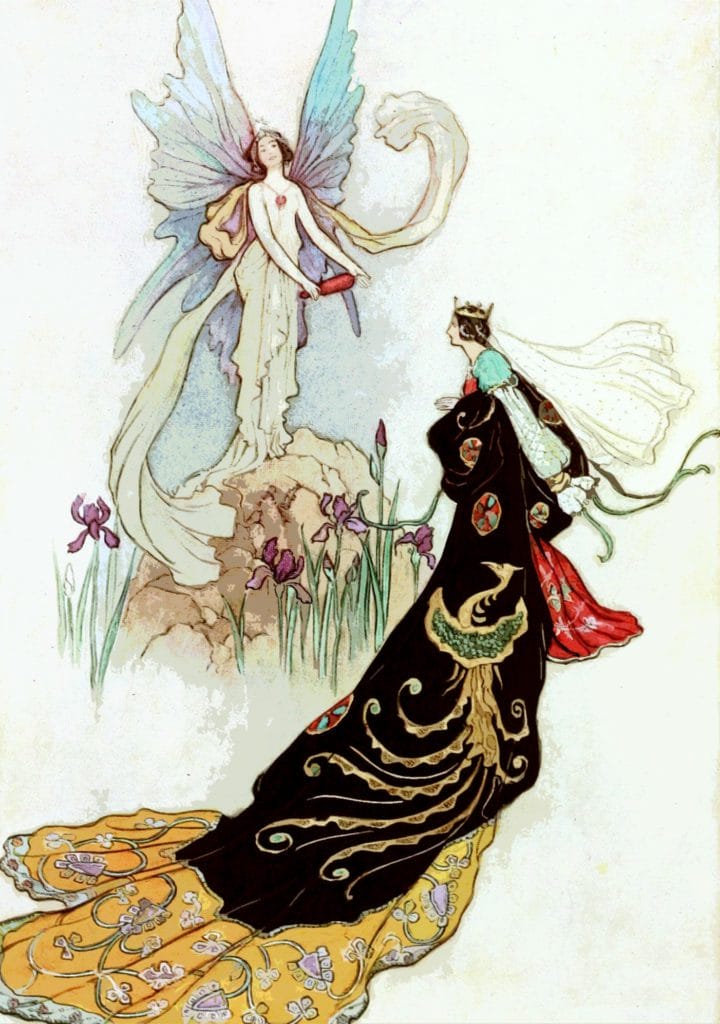 6. "Courage shall not be wanting on my part."
From the Book of Fairies, we're treated to this delicious vintage illustration. A compilation of stories, this particular image shows a scene from a fairy story called The Butterfly. Here we see the Queen, who after climbing a mountain meets the Queen of the Fairies and is blessed with her 20th child (having lost the previous 19 in their childhoods – grim).
My favorite part of this illustration is the trailing layers of the Queen's dress (or is it a cape or coat?). It has a traditional European shape, but again we see Goble's Japanese influences come into play with a large golden crane, and a pop of rich red against the black. The yellow border trailing on the ground is suggestive of a beaded Indian sari, which is another area that Goble loved to draw inspiration from.
7. "Stopping beside a fountain, she let her hair fall loose…"
Waterlilies, a pond, irises and rambing roses! Such beautiful detail in this fairy illustration, this one again from The Fairy Book, within a story called "The Blue Bird". Here we see our heroine, Floriana, stop by pool to wash her feet and refresh herself along her journey. An old woman comes by and Floriana tells her her struggles. Of course, the old lady transforms into a beautiful fairy and gives her four magic eggs. Happens to me all the time!
I love the masterful use of watercolour and Floriana as a vividly coloured focal point, framed by the gorgeous flowers.
Love the illustrations of Warwick Goble? You can find similar illustrations in the Children's Books illustrations gallery. Everyone from Edmund Dulac, Ida Rentoul Outhwaite, Kay Nielsen and more!