Tumbling toadstools! We love ourselves a good vintage mushroom illustration around these parts, and we've done our best digging up some true treasure from the public domain to share with you! Mycology – the study of fungus – produced some wonderful artworks in the 19th and 20th centuries. It continues to be a source of inspiration today, and the copyright-free downloads below could be used for collages, textile prints, stickers, printed as full-size posters and more. There are even vintage scientific mushroom charts that are right on trend at the moment.
Ready to celebrate the fungus-among-us? We've rounded up ten of the best to give you a taster of what you can access, but don't forget that you can browse the full gallery of over 100 vintage mushroom illustrations right here.
Vintage mushroom chart
I can never go past a great looking scientific chart, and this funky fungus one is a fab example of the work of Sarah Price. Not much is known about her, as a woman in the 1800s, but she had enough of a following to produce a slim volume "Illustrations of the fungi of our fields and woods". Species depicted here: Cantharellus aurantiacus; Peziza coccinea; Peziza hispida; Boletus elegans; Polyporus perennis, var.; Agaricus ceciliae; Lycoperdon caelatum, var.Attribution:Price, SarahDate:1865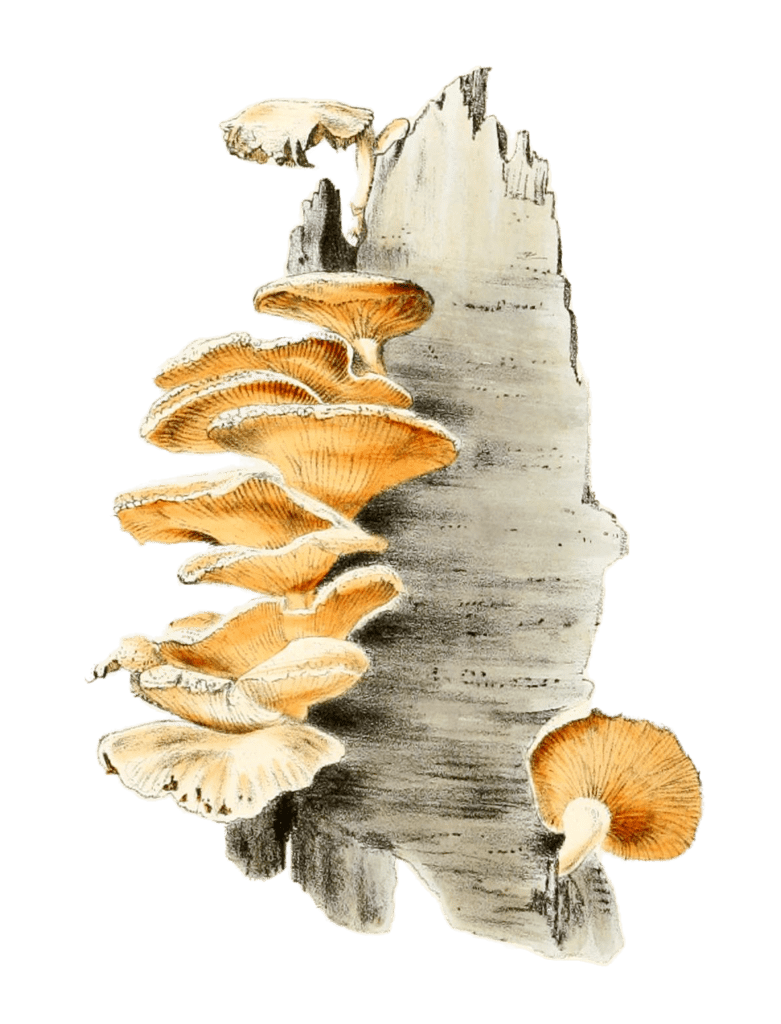 Oyster mushroom on tree bark
This skillful and charming illustration is by Anna Maria Hussey, one of the most prolific British mycological artists of the 1800's. Strong-willed, curious, and talented, she made connections with prominent botanists of the time and even counted Charles Darwin in her peripheral social circle. I love the colors of this particular illustration, the rich orange of the oyster-style mushrooms, and the sooty grey of the tree bark. The composition is also lovely, with the mushrooms waterfalling down the side of the tree.
Red and white spotted toadstool
How cute is this spotted red and white vintage toadstool illustration? The term "toadstool" is actually a non-scientific name generally given to colorful, inedible or interesting-looking mushrooms and fungus. But if you're anything like me, you grew up reading fairy stories where red and white toadstools dotted forest floors and gave elves and talking mice shelter from the rain. This toadstool illustration is another beauty from Anna Maria Hussey and it's available to download isolated (with no pesky background!) for ease of use.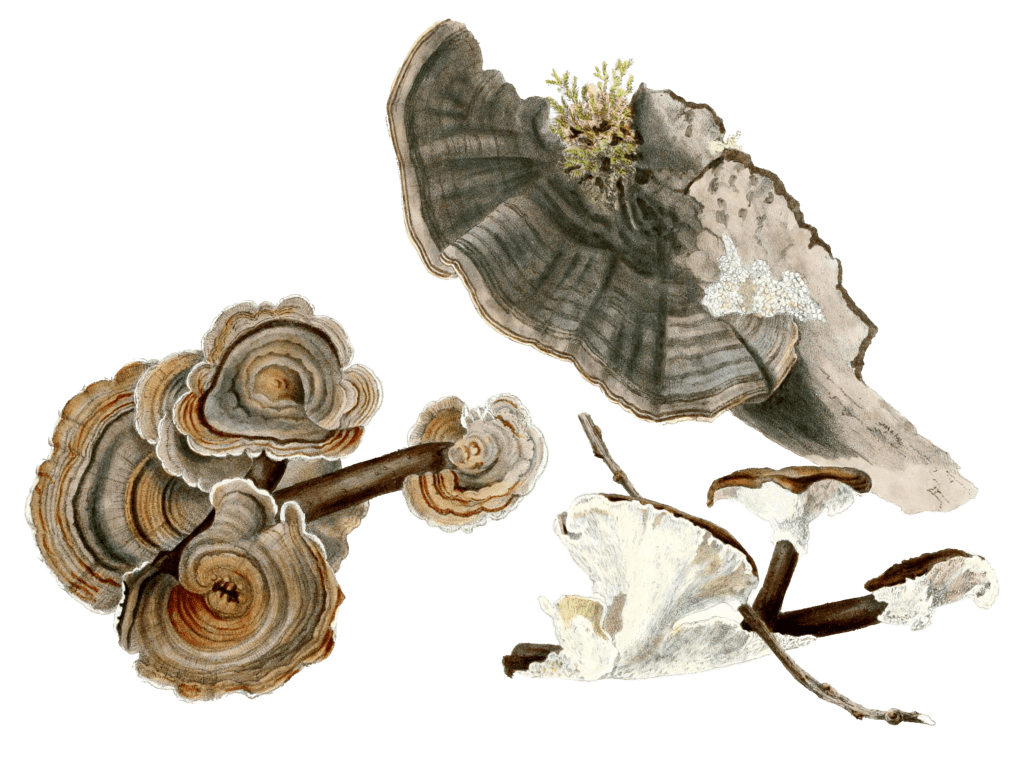 Watercolor turkey tail mushroom
Simple in colors, I love the earthiness of this turkey tail mushroom illustration. Yet another from Anna Maria Hussey, fungus illustrator extraordinaire. I love the way she's captured the delicate ruffles at the edge of each mushroom, as well as the subtle layers of browns and grays. She's also hinted at where she's found these specimens by showing the branches and bark that anchor the mushrooms. Hussey would venture out into the forests and fields surrounding her home and bring back all kinds of mycological samples.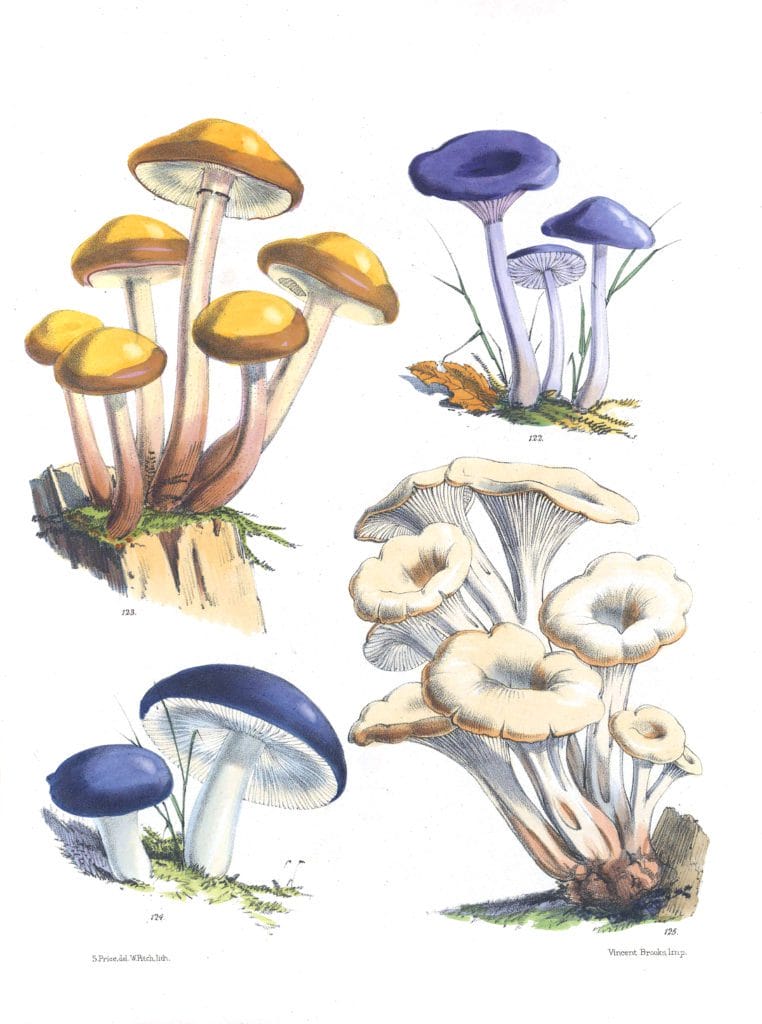 Blue and yellow mushroom chart
I just had to include this chart because of the fun colors! Simple clusters of small mushrooms, relatively common, become special here by grouping them together and putting them with contrasting, jewel-tone colors. Another scientific mushroom chart from Sarah Price. The names of the varieties shown here as well as some brief notes:
AGARICUS LACCATUS, "var. AMETHYSTINUS – In woods, etc. Extremely common.
AGARICUS MUTABILIS. On trunks of trees, or on the ground.
RUSSULA HETEROPHYLLA. Woods.
LENTINUS COCHLEATUS. At Bitterley, on old timber. September.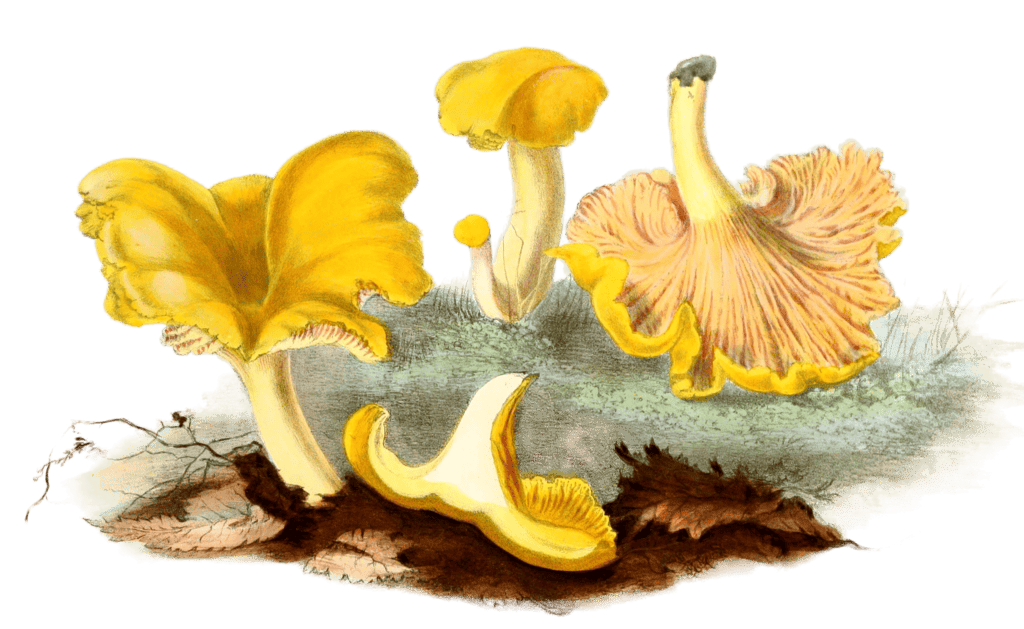 Yellow frilled mushroom
I couldn't find the name of the mushroom in this illustration, but I had to include it here because look at the color! This bright golden yellow is just the sunniest, warmest hue. I've no doubt that the bright coloring is a warning, a.k.a don't eat me (in fact, don't eat or even touch ANY mushroom you find unless you're 100 percent sure it's not poisonous) but often in nature, danger comes with beauty. Thanks to Anna Maria Hussey again for this stunner.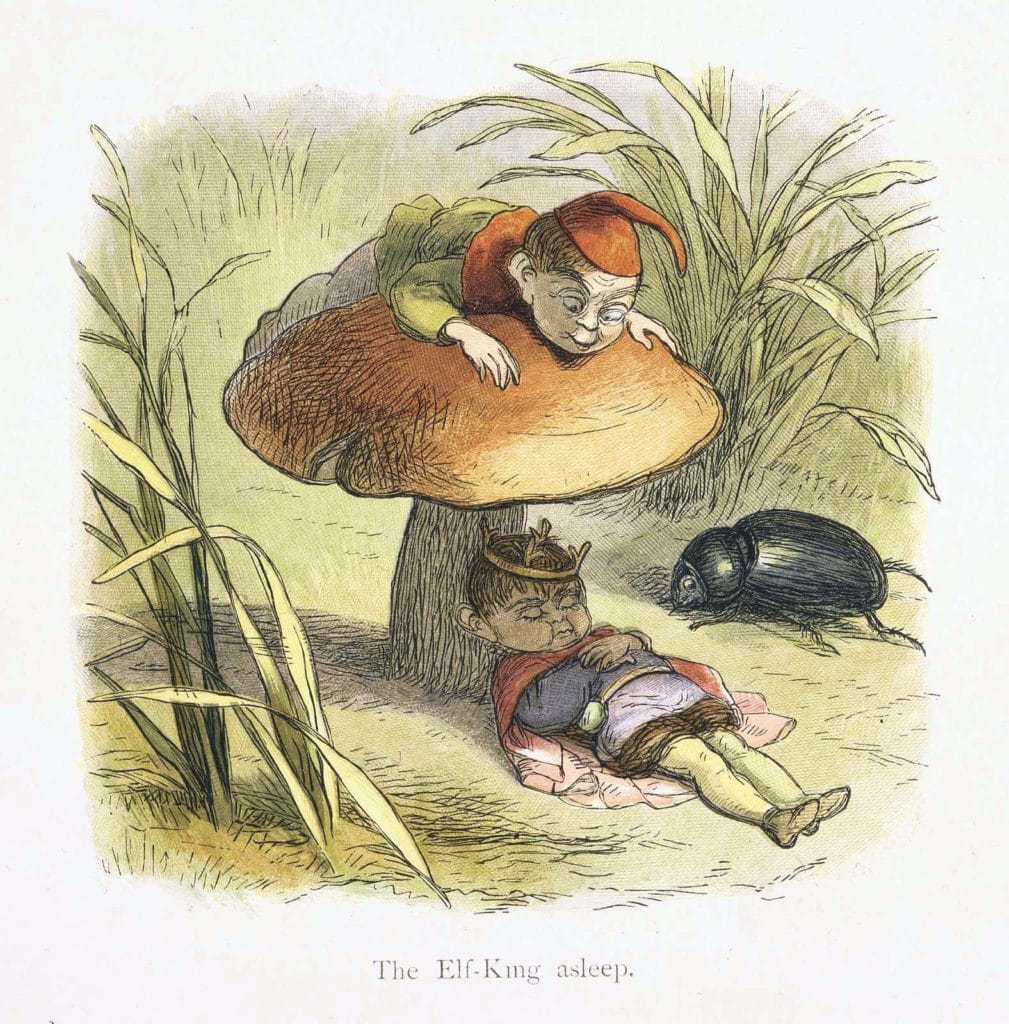 Elf sleeping under a toadstool
I couldn't have a vintage mushroom illustration roundup without including a sparkle of magic! Here we have a lovely watercolor from "Princess Nobody – A Tale of Fairyland" by Richard Doyle. Doyle was trained by his father, who was a cartoonist in the early 1800's. The two Doyles would sit daily in the street, sketching people and urban scenes from life. Happily for us, he found his way into the fantasy illustration realm, and here we've got the elf king having a snooze in the shade of a toadstool, with a sneaky elf peeking over the top and a large black beetle wandering by.